With all the options and varieties out there, searching for the right hunting safe can be a difficult task. When you do a simple Google search for "hunting safes near me" or "best hunting safes in Edmonton," you'll get pages of results. But what makes a hunting safe premium quality?
Hunting safes have tons of features and elements that allow them to cater to different kinds of individuals and hunters. To help you find the right safe for your hunting needs, we've made the following blog of different features to look for in a quality hunting safe. 
Factors To Consider When Selecting A Hunting Safe 
No matter if you're a seasoned hunter with various firearms or just a novice with a couple of old reliables, picking the right gun safe is crucial to protecting your firearms and peace of mind. There are plenty of options when it comes to hunting safes. The majority of them can be customized in terms of size, layout, and security levels to fit various customers. 
When choosing the right hunting safe for you, you'll want to consider some of the following factors.
How To Choose The Right Size for Your Hunting Safe
One of the first elements you'll need to consider is which size of hunting safe you'll need. Many hunters and gun owners don't always consider everything that they could potentially store in a hunting safe. Aside from your firearms, you'll also want to consider other items like ammunition, gun accessories, or even valuables like important papers, collectables, etc. 
Naturally, you'll want to select a hunting safe that can comfortably fit your firearms. Initially, you need to do a count of the firearms you'll be storing and also estimate the number of valuables that will be kept in your future hunting safe. It's recommended to add buffer space that exceeds your original estimation. You'll also have to consider the exterior dimensions of your hunting safe. Otherwise, you may run into issues with fitting your safe into the location you intend to place it. 
Some questions you can ask yourself to help narrow down the selection of safes include: 
How many firearms will you be storing in your safe?

Will you be storing your ammunition separately or together with your firearms?

Do you plan on putting anything else in your safe?

Which location do you plan on putting your safe?

Are there any accessories you'd prefer to have with your firearms?

Will your safe need to match your home decor?
Choose a Gun Safe With the Best Suited Security Level
Hunting safes can come in a variety of security levels. To define each security level, a value is assigned to each. These values are generally used for business for insurance purposes but act as a good guideline for the different levels of protection. 
This is a good time to mention that in Canada, some of the regulations around gun storage require them to be securely locked away in a container or safe that cannot be easily opened or broken into. 
Hunting Safe Security Ratings
RSC: Residential Security Containers (RSC) safes offer a solid level of base security. They are on the lower end of security but still can withstand at least 10 minutes of vigorous break-in attempts by a safe technician. They have been tested to withstand a variety of break-in attempts methods, including prying, punching, drilling, tampering, and more. 
B-Rated: B-rated hunting safes indicate that the safe's body is less than a ½" thick and that the door is less than an inch thick. Usually, B-rated safes can hold up to $2,000 in content value. B-rated safes are generally not tested by Underwriters Laboratories (UL), so they do not have a UL rating.
Note: UL ratings are an important factor in determining the security of a safe, as this organization independently tests safes for a variety of factors.
C Rated:  C-rated safes have a safe body of at least ½" in thickness, and the door is at minimum one inch thick. These safes can hold up to $10,000 in content value. Similar to B-rated safes, these safes are not tested by UL and do not have a rating. 
UL TL-15:  TL-15-rated safes have specialized designs that allow them to withstand a full 15 minutes of break-in attempts and tampering by a safe technician. These safes are constructed of at least 1" thick solid steel or another equivalent material. Common designs of TL-15 safes are ones that are combined steel/concrete. This means that the safe would have steel on the exterior, then layers of concrete or composite to make it more secure. As a general rule of thumb, these safes cost more than RSC safes and weigh a lot. They can hold up to $10,000 – $50,000 in content value.
UL TL-30: TL-30 safes are very similar to TL-15 safes, with the only difference being the amount of attempted break-in time. TL-30 safes are also made with thick steel and composite layers to enhance their break-in resistance and durability. These safes are tested for a break-in resistance of 30 minutes versus the TL-15 rating of 15 minutes. These safes can hold up to $10,000 – $50,000 in content value.
There are many factors to consider when it comes to purchasing a safe. Apart from the security rating, some of the best resources for selecting the right safe for you can be found at your local safe supplier. 
What Features to Look For in a Hunting Safe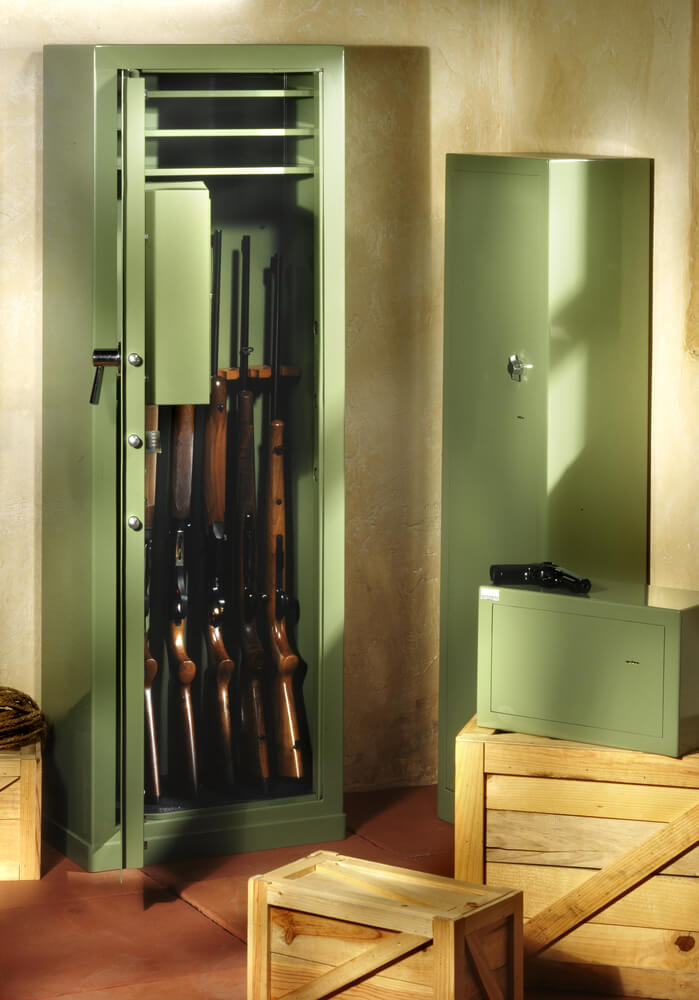 Picking a safe isn't as straightforward as many people believe. Hunting safes have various features. Some features you will want to consider in your next hunting safe can include the following. 
Lock Type
When it comes to choosing a lock, there are two options available: combination locks and electronic locks. Combination lock safes can only be unlocked with a code through an externally accessible dial. This kind of lock is a durable option with little maintenance and is generally a more affordable option when compared to electronic locks. 
Steel Thickness
One feature you'll want to pay attention to is the thickness of the steel your safe is constructed with. Steel thickness is measured in gauges. The higher the gauge, the thinner the steel. The thicker the steel, the more difficult it will be for unauthorized people to break into the safe. 
In addition to steel thickness, a strong, quality safe may also use a composite structure. Composite structures are renowned for making attempted breaches and tampering much more difficult. Their layered composition makes it more difficult for burglars to break in since they would need multiple tools to breach each layer and more time.
Fire Protection
Choosing a hunting safe that has a solid fire resistance rating is one of the best ways to protect your firearms and valuables. Fireproof safes are designed with additional layers which prevent heat from penetrating. 
Most fire ratings on safes will have a time and a temperature rating. A good guideline to follow when it comes to the fire rating on hunting safes is the more valuable, the more fire-resistance you'll need, which means choosing a hunting safe with a higher fire rating for more comprehensive fire protection. 
Dehumidifiers
This particular feature is only relevant for those who live in high-humidity areas. Environments that are prone to condensation and humidity increase the chances of rust forming on your firearms. 
In order to prevent rust from forming, your hunting safe will need a dehumidifier. This device will absorb any moisture and keep the air at a consistent dry temperature, leaving your firearms in pristine condition. 
Water Protection
One of the last features you'll want to consider when picking a hunting safe is water resistance. You may be wondering if having water protection is a good idea, but you'd be surprised at many situations where water can pose a significant risk. Whether it's from a flood, water used to extinguish a fire, or unexpected standing water, every manufacturer will list the specific details of their safe's water protection abilities. 
Find the Best Hunting Safe for You at Dial Locksmiths & Safeworld
A part of being a responsible gun owner is ensuring that your firearm is secure. Purchasing a hunting safe is one of the best solutions to keep your firearms and loved ones safe. There are plenty of options and varieties, all capable of suiting different needs.
Here at Dial Locksmiths & Safeworld, we understand the necessity and importance of purchasing hunting safes. Our professional and knowledgeable staff will be able to help you select the best safe for your needs. 
To learn more about our inventory of hunting safes or to get a quote, contact us today!